A cooperation of, for and by the horticultural industry
Horticoop is the incubator for investments in the horticultural sector, driven by a single clear objective: working our way towards a healthy future for the horticultural industry. Obviously, nobody can achieve that alone. Together is the key word, and it encompasses the cooperative's 400 members, the Horticoop businesses and other parties contributing to innovation in the industry.
A win-win cooperative!
As a cooperative that has lasted for several generations, Horticoop knows better than anybody that progress is linked to change. That is why the cooperative is committed to active investment in the new and existing businesses that provide added value within the industry. As an investment cooperative, Horticoop focuses on the future; a future in which it builds on its investment portfolio, as well as on its relationships with the members. All the cooperative's efforts are made for and by the horticultural industry and are aimed at achieving that one common goal: a healthy future for our industry.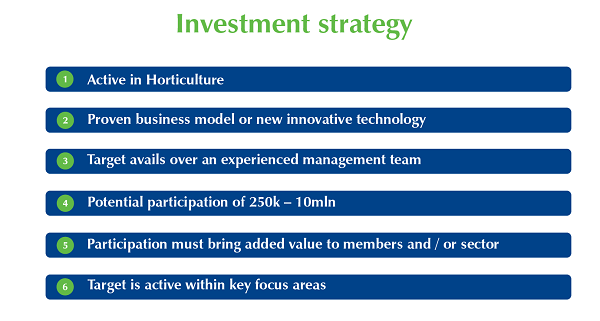 Joining forces
The power of the Horticoop investment cooperative lies in its specialist expertise in the horticultural sector, and that comes from the experience of the 400 or so members who run a professional horticultural business combined with the knowhow of the Horticoop businesses active in the fields of lighting, climate, technology and substrates. This amalgam of expertise ensures a comprehensive knowledge resource within the cooperative, something which definitely benefits its members! The Horticoop businesses, which include Lensli, Horticoop Technical Services, Lumiforte, Horticoop Scandinavia, Holimco and HortAmericas, are established both at home and abroad.
Growing together
Horticoop contributes to a healthy and sustainable future for the industry by actively investing in new and existing businesses that are providing added value in the horticultural sector. The nature of these businesses is determined by the needs of the members, who profit from the investments that support their business management. In turn, Horticoop members contribute to the cooperative by sharing their expertise and experience, and by purchasing products and services from the businesses (under mutually agreed market conditions) in which Horticoop invests. If the businesses in which the cooperative has invested make a profit, the members receive a dividend by means of a participation structure. Investment partners benefit from the active contribution of Horticoop's support base, whose members act as sparring partners, testing panels and buyers of their innovative products. Thanks to its extensive network and easy market access, the Horticoop investment cooperative is the ideal commercial connector in the greenhouse horticultural industry, and with a clear focus on investment, Horticoop is intent on growing the horticultural industry together!
If you would like to know more about how the collaboration with members, businesses and investment partners works in practice, please watch this video! Horticoop, the win-win cooperative.